Last month, my husband and I started our preschool search for our son! Dun dun duuunnnnn! So while we're on the waiting list, we decided to do a special, weekly activity to help reinforce key preschool skills. Last week we baked rainbow cupcakes with the intention to review colors and patience. Little did I know that we would cover counting, making choices and so much more.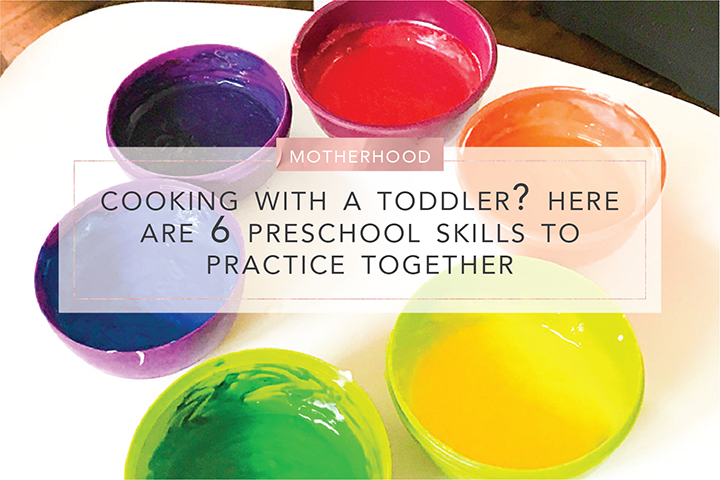 *This post may contain affiliate links. That means if you click on some of the product links, I may receive commissions for purchases made through them, but at no cost to you. 
I decided to start with baking, specifically a rainbow cake, for two reasons. First, I remember reading in Bringing Up Bébé: One American Mother Discovers the Wisdom of French Parenting, by Pamela Druckerman, that baking is a great way to practice patience. Second I thought dying the batter would be a fun way to review colors. Little did I know how many other lessons and skills we could build upon during this lesson.
The Ideal Cake Mix For Kids
I have to admit I was a little nervous about really cooking in the kitchen with my kid for the first time. I see how Wes leaves his Little Tykes Kitchen after 5 minutes…it ain't pretty. But I decided to just get over it and purchased a box of Duff Tie Dye Premium Cake Mix from Target.
This cake mix comes from Duff Goldman of Charm City Cakes and the Food Network's Ace of Cakes. I chose this particular cake mix because I thought the vibrant colors would be great for my son and because I didn't need to buy food coloring.
Plus the box itself looked amazing and I knew the concept would be easier for him to understand and get excited about versus a box of plain cake mix.
Set Your Kitchen Up To Bake With A Toddler
Like most kids his age, Westley is easily excitable which in my mind means a big mess! So I took a few precautionary steps to make our sure our baking lesson would allow us to stay focus on colors and patience versus going off the rails.I did not want to this turn into a lesson on cleaning up a catastrophic kitchen mess.
To get ready, I did 3 things:
Kept the messy ingredients up high. I staged a "no-touch" area of my countertop for the eggs, oil and food coloring.
Had the main show on his level. The "tie-dying" is what allows for the majority of the lessons with this recipe. So I used my laptop desk from IKEA what can be adjusted to his height as our tie-dye station. I decided against having him stand on a chair at the kitchen table because I felt like it left too much to chance for slipping off of or spilling batter onto our kitchen stools.
Ditched the toddler top. I thought it was best for Wes to cook sans shirt since I didn't have a kid apron. This way if she spilled the colorful batter on himself, I wouldn't have to worry about losing another shirt to the stain gods.
The 6 Preschool Skills Of The Rainbow Cake
After setting up the lesson for success and little mom-stress, we started following the steps on the box. Once we had the batter base we separated it into 6 dishes so we could color them based on the primary & secondary colors. That's when I realized that we were going to cover more than just colors and patience. Here are the 6 main lessons that organically emerged in order once we  got cooking:
Counting
The actual measurements may be a bit much, but counting out drops of food coloring to make the batter colors was a fun way of getting Wes to practice counting in general.
Identifying Colors
Okay, that's pretty obvi! But aside from having your child identify each color in the rainbow, there's also the chance to cover HOW those colors are made: red + yellow = orange, blue + yellow = green, etc…
Making Choices
After coloring the batter, I asked Wes to choose how he wanted to layer the colors in the cupcakes. It was pretty cute to watch him sit back and actually THINK about his choices. It's good practice for other decisions he will make like choosing what to wear or how to style his hair. Tthe kid has a lot of it.
Following The Rules
We practiced 2 key kitchen rules: "Don't touch the hot stove" and Mommy's "Clean while you cook" rule.
Following Directions
The steps in this recipe were pretty simple and easy for a little kid to understand.
Self Control & Patience
In order to keep things from going south, I had to reiterate the need to stay calm, to wait and to have self-control with Wes.
It's Not About Perfection
Needless to say that Wes and I still need to work a lot on that last lesson. I'm not going to BS you and say my soon-to-be 3 year old sat angelically on the sofa and waited for a cupcake to be placed before him and ate it like a prince. He was cool for about 3 minutes after putting the cupcake into the oven. Then the never-ending repetition of "I want my cupcake, Mommy" began. The point is, we got to practice patience.
All in all, our first baking lesson turned out to be a lot of fun. Even my daughter joined in at the very end after she woke up from her nap.
I highly recommend using this cake mix as a fun and easy way for cooking with toddlers to reinforce key building blocks & skills he or she will need for preschool. I also say to try it cause it was pretty darn tasty.
So tell me, what other activities do you do with your preschool bound munchkins? I'd love to know! leave your ideas in the comments below and I'll happily share them!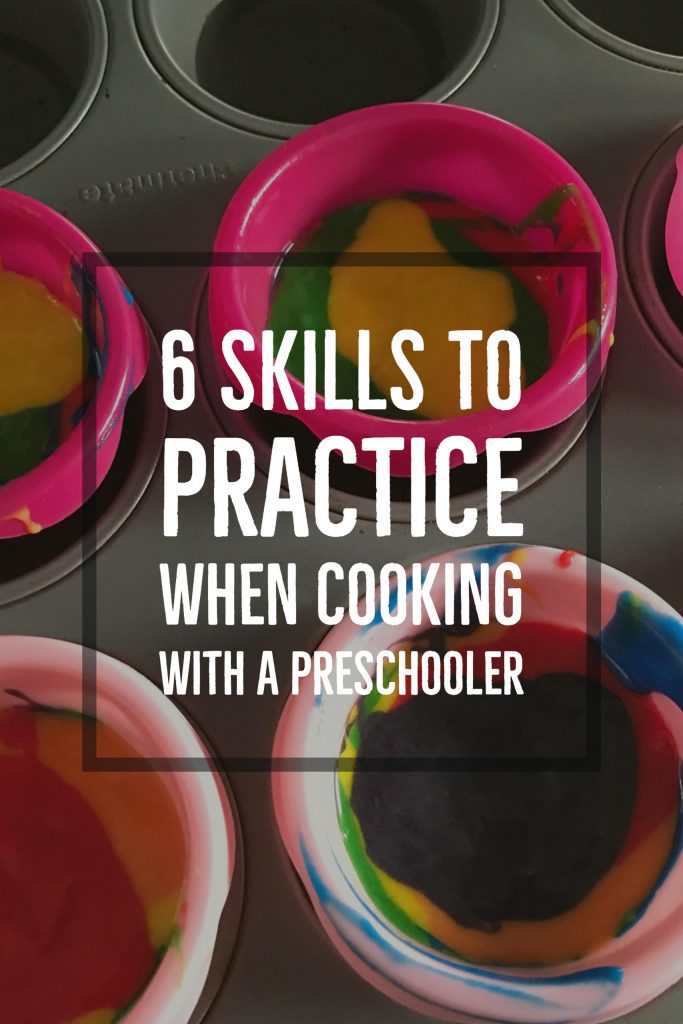 Get The Goods & Get Mom-Bossing!