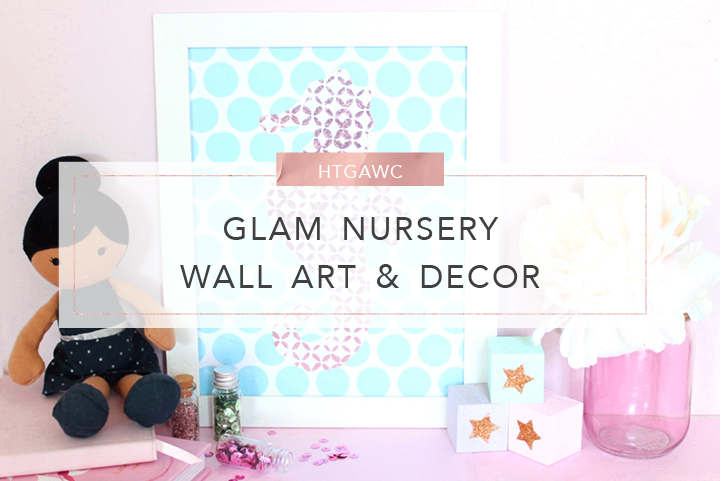 This post may contain affiliate links. That means if you click on some of the product links, I may receive commissions for purchases made through them, but at no cost to you. 
Hi, Everyone! First let me say, I'm incredibly sorry for being away for the past six months. I took an unexpected Mommy Break! I needed to take some time to get my life, home, and other things in order since the new year. Between having 2 toddlers, taking on a new job and getting trolled about a post I did about my kids, I needed to reset. So I have and I'm back. And with that, I'm back with a family focus for the next few months.
This htgawcrafting post is a super DIY for sprucing up any kid's room. Now that my munchkins are a little older I wanted to jazz up their room in a subtle way. My daughter is 15 months and my son is over 2.5 years old. So they don't really need a baby environment, but they still need a colorful, gender neutral playful space. So I decided to add a little fun to their walls – their names and framed wall art in FOIL.
Pretty much if you have a MINC Foil Applicator, printer and 1 hour, then you can add a little "preeeeeetty" as my son, Wes says to any toddler's bedroom. Let's get started on your glamtastic Nursery Wall Art & Decor!
Supplies for DIY Glam Nursery Wall Art & Decor

Prep Your 
Letters

Create the "look" for your little one's name by choosing different pieces of patterned paper that can be foiled. You can print your own on a laser printer or use pre-designed pieces like I did from the Heidi Swapp 5th Avenue Paper collection. You'll want to use a different pattern for each letter in your child's name. Then decide which foil color you want to use for each piece of paper. The floral pattern in this gorgeous set was my favorite so I knew I wanted to use pink foil for that design.

Once you have your order, trace and cut out each letter from your child's name on the pattern paper you selected.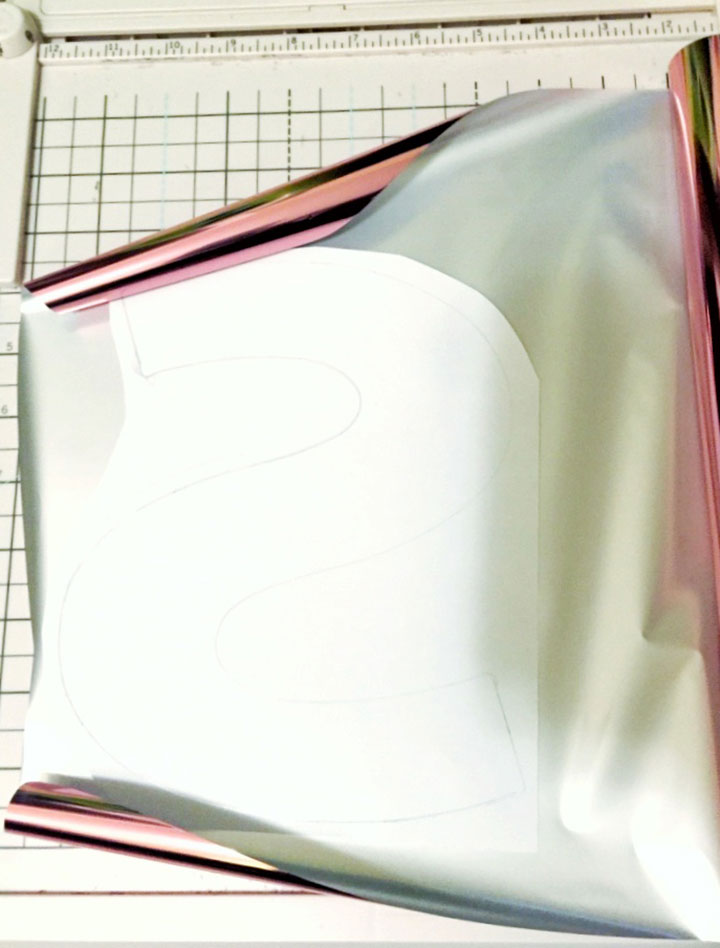 QUICK TIP: Trace the letter on the back of the paper face down. This way you avoid having pencil marks on the patterned side of the paper. And you'll want to trace the letter face down or backward so it fits correctly once it's cut out. Set them to the side.
Prep Your Wall Art Theme
Choose a theme for your little one's wall art. I chose critters for 2 reasons – (1) my kids LOVE animals and (2) the critters would be a fun way to practice vocabulary and help with storytelling during nap-time.

Find silhouettes/outlines of whatever images you want to use online. I found some adorable animal outlines through a quick Google search. 

Using Illustrator or whatever graphic design program you have, size your art so it will fit in your frame. Leave a little room so you can center it to the frame. I used 8.5" x 11" frames so I made sure my critters had a margin of at least 0.5" around them. Print and cut out the image on plain white paper. NOTE: You can cut the critter or object by hand, use an image directly from the Silhouette Design Store or use a custom image in Illustrator and cut it out with Silhouette Connect. (I LOVE the Connect Plugin for Illustrator! Makes like so much easier! More to come on that in a future post.)

Take your stencil and place it over your critter or object. Using a sponge brush or paint brush, apply the Reactive Paint over the stencil onto your shape.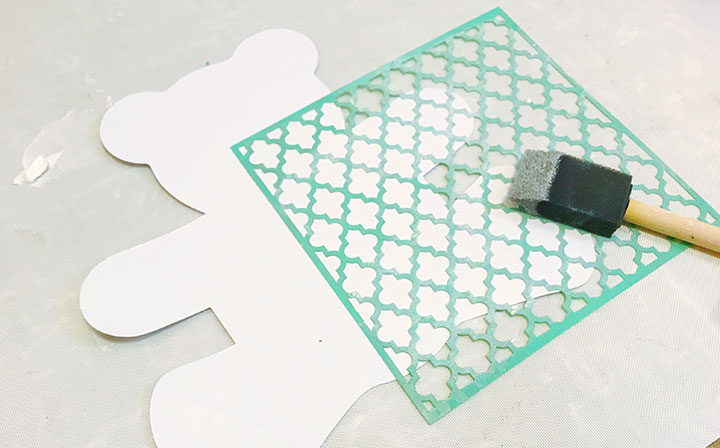 Once you remove the stencil, you should have a nice pattern that is a bit tacky and will dry white. Repeat for all of you critters/objects and set to the side to dry.
Get Ready To Foil!!!

While your MINC Reactive Paint dries on your wall art images, cut your foil to fit your letters and images. Then place the letters under the foil in the protective sleeve and foil on level 3. Repeat until each letter is super pretty and shiny. 
Once your ink is dry, foil your critters, again on level 3. These won't be perfect, but I like how they come out a little distressed.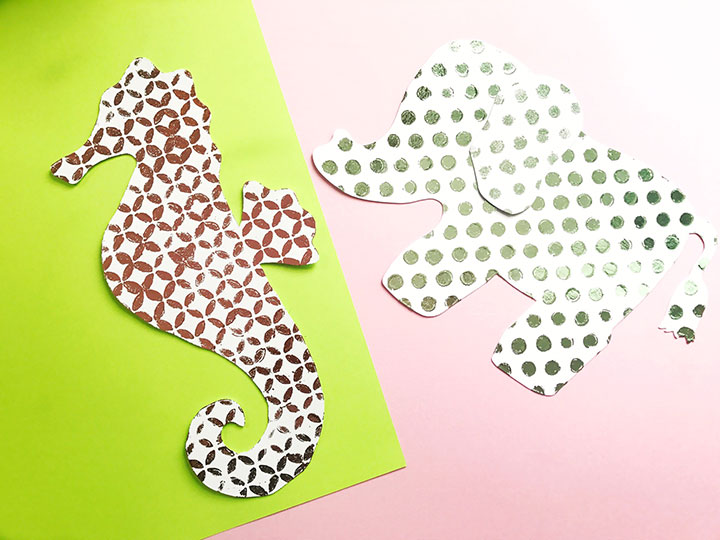 Assemble Your Art

Using your tape runner, adhere your patterned letter cut outs to their corresponding 8" chipboard letters. It's okay if there's some overhang. You won't see it from the front.

Use your tape runner to secure your critters or objects to a printed background or a piece of patterned paper that fits your frame. Place your art in the frames.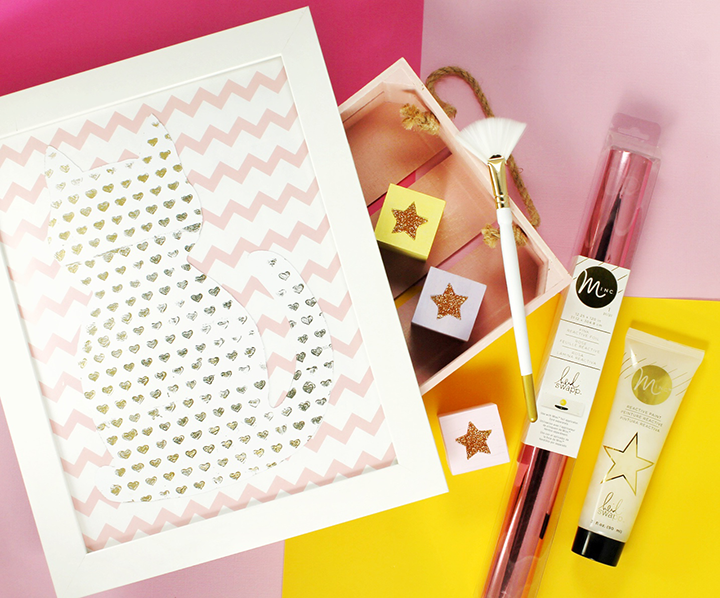 Hang Your Nursery Wall Art & Smile

Finally, using the 3M Mounting Putty and Command Strips, hang your letters and frames respectively to the wall. Ahh! Isn't it lovely?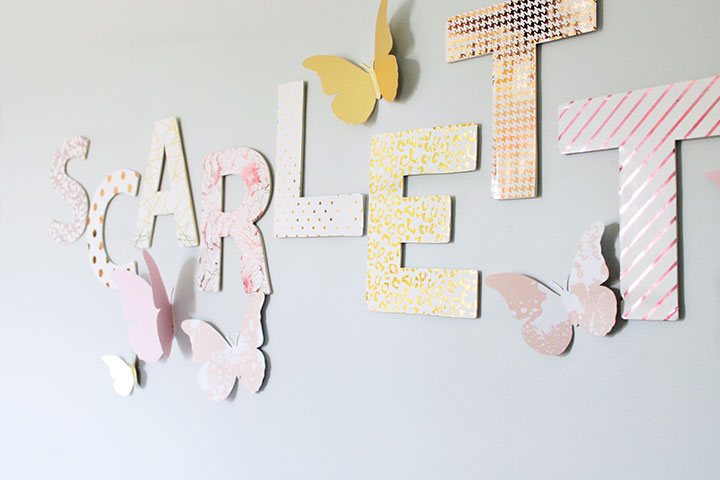 I just love how these turned out. And as an added bonus, when I was at Ikea, looking for new frames, I scored these adorable pink & gold butterflies in their paper decorating section. They matched PERFECTLY, so I added them to my daughter's name.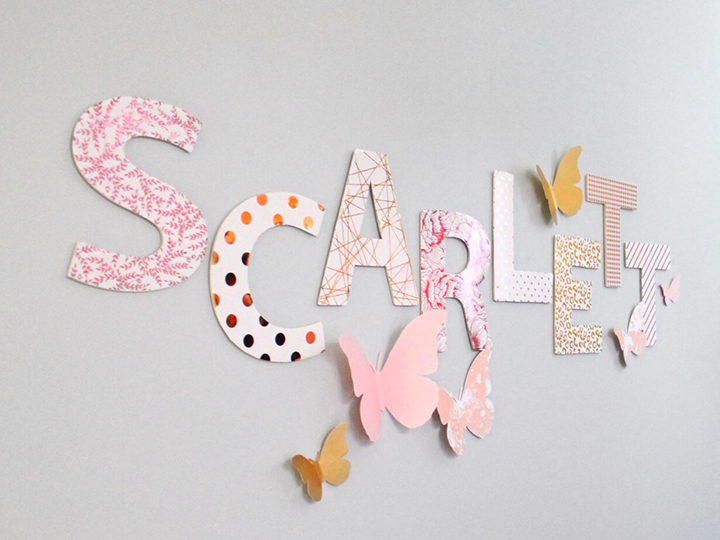 So there you have it! Subtle shimmer and shine in your little one's room. I think these letters turned out to be something Scarlett may want to keep for a long time. And both of my children will have at least 3 animals each for keepsakes. How did your Nursery Wall Art & Decor turn out? I would love to see, so please post and tag your photos with @pinkimonogirl or #pinkimono & #htgawcrafting on Instagram! I can't wait to see how extra glam your little one's room looks!
Happy crafting!