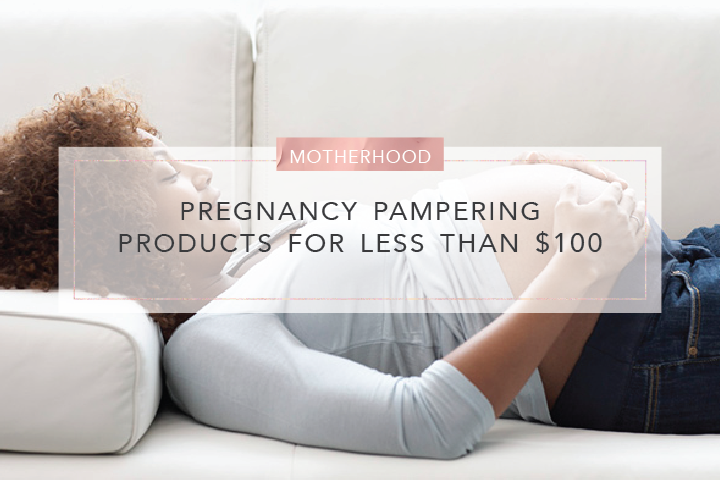 With the third trimester knocking at my door, I've decided I need to start my pregnancy pampering routine again. Between the heartburn, the aches and pains and the return of morning sickness, I need to be pampered. But spa days and pedicures can get a little pricey. My husband and I realize we have to be financially smarter with a second kid coming, so spa days have been cut for now. But that doesn't mean the pampering has to go out the window too!
Here is my list of pregnancy pampering goodies to indulge your beautiful pregnant self for less than $100.  Everything on this list will leave you feeling shiny and new after taking an hour or two to yourself. And after all, shouldn't we feel fabulous during this special time? Read on if you agree!
With the weather being incredibly unpredictable right now, it can be really difficult to protect your glowing skin from the elements. In addition to your skin being dry and itchy, there's also always the looming threat of…stretch marks. (Insert scary horror film scream.)  Look, the reality is some of us are going to get them and some of us are not. However, we can lessen the threat with a little pregnancy pampering, starting with a pair of loofah gloves.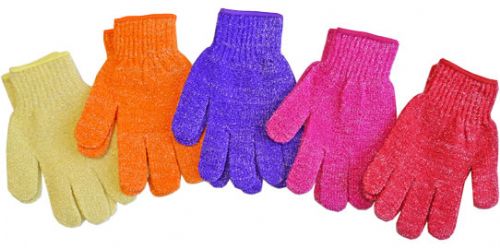 I used loofah gloves consistently throughout my first pregnancy and during this one as well. So far I've had only a few stretch marks show up. I consider them love stripes from my son who was 11 days late but felt the need to keep growing. Using my loofah gloves at least twice a week with a super yummy scrub (see Pregnancy Pamper Product #2 below) makes for an enjoyable mini-spa in the shower and an affordable way to cut down on stretch marks.
This next product goes hand in hand (or glove in glove) with the loofah glove. Like other Bliss products, their Super Minty Soap'n Scrub feels luxurious from the minute you squeeze it out the tube. This scrub is coarse enough that you feel like it's doing its job yet gentle enough that you can use it every day.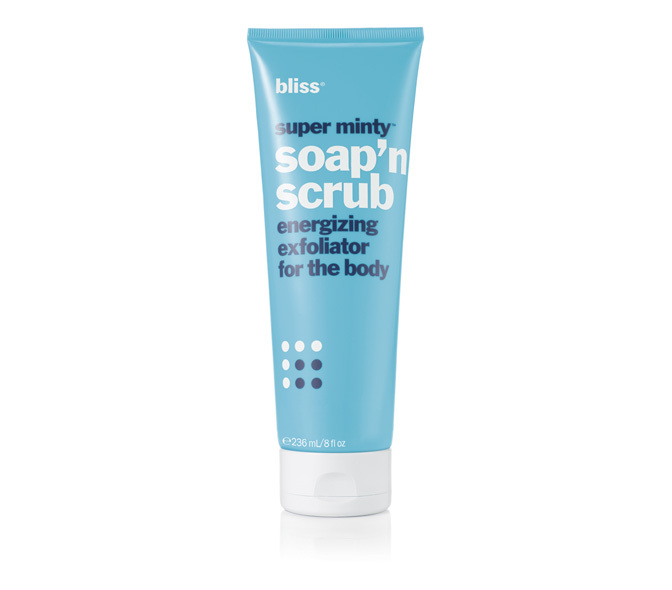 Add the minty scent, and you feel extra invigorated. I love to use this with the loofah gloves, especially on the sides of my bump. And not to overshare, but I do have to remind my husband to replace this scrub, because he uses it too. So be prepared to share this one with your partner because it is really that wonderful that you won't be the only one who wants to use it.
After getting rid of the dead skin, it is time to moisturize. Aside from your basic lotion needs (I'll cover  them in a minute) you'll want to keep that gorgeous belly soft and nourished. The Body Boost Stretch Mark Butter is an excellent way to pampering your bump.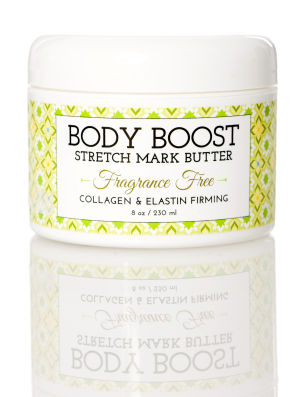 It smells wonderful, but isn't overpowering – which is super important for our sense of smell right now. And it's pretty affordable as far as stretch mark body butters go. I got mine at Destination Maternity for $15. Here's the deal, it doesn't look like they carry the Lavender Vanilla scent in the butter line anymore. They only have unfragranced, but that's okay because the scent of the next product in your pampering routine will make up for it.
This is my new favorite lotion. What I love the most is that it is paraben-free and super silky when applying. I feel like it can be really challenging to find both of those in a lotion. So to have a wonderfully scented, paraben-free, truly moisturizing lotion in extra cute pink packaging is a win-win for this mommy!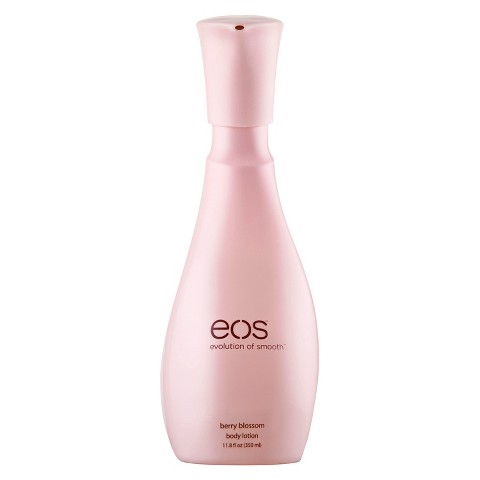 So get ready to overindulge and slather this on after your shower! Special Note: As a mommy-to-be living in this information-overload world, how can you really tell if parabens are okay or not? (They are everywhere.) The best thing you can do is talk to your doctor and do what you think is best for you and your baby. For me, I avoided them during my first pregnancy and I'm doing it again. So this lotion is perfect for what I need.
So what pamper session isn't complete without taking care of your little tootsies? The Amope Pedi Perfect is just that – perfect. If you're like me, you may be a bit overly cautious about going to a nail salon right now. Every smell in there can put you through the ringer. So unless there's a salon that caters to moms-to-be, I've gotta keep my feet cute all on my own.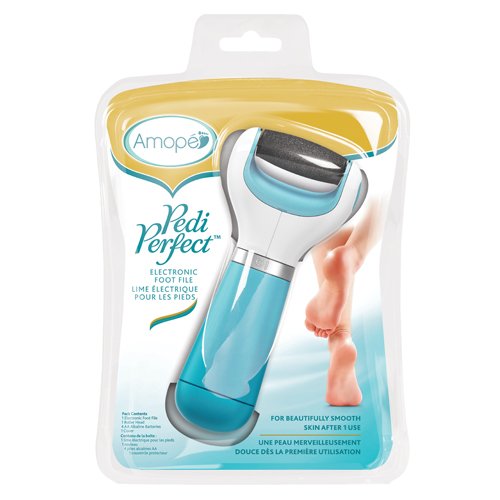 The Amope Pedi Perfect helps to do that. The way its been designed works so I can easily reach my feet. It also delivers on its promise, my feet really felt fabulous after the first time. This is definitely a better option for maintaining my pedi regimen while carrying a little one. Plus you can use your wonderful EOS lotion afterwards for super soft feet!
And of course to finish off your pampering you have to add the finishing touch – pretty nails! Butter Nail Polish is pricey no doubt, especially for an at home mani/pedi, but it is worth it. They offer a wide array of beautiful colors without any of the smells or unnecessary toxins which is perfect for mommy-to-be.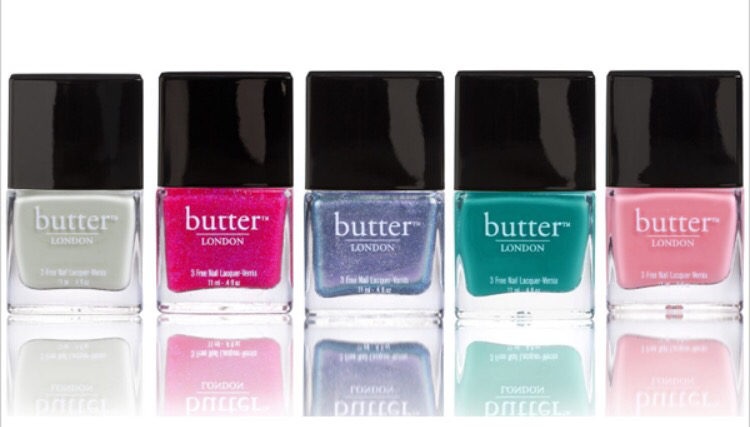 Plus this brand tends to chip less which is great if you are like me and you have to run after a 15 month old. You know opening snack packs, changing batteries in toys and cleaning off whatever got stuck on your desk. fridge or any other surface. This polish lasts through all of it.
So that's the list. I pulled the best prices I could find, but you can probably do better if you use a coupon to say Ulta for the loofah gloves or sometimes you can find Bliss at Nordstrom Rack and TJ Maxx. Either way, you're worth the mini-splurge for these pregnancy pampering goodies! So go grab these items, your partner or a babysitter if you need one and disappear for an hour or two and pamper yourself!
Enjoy!